I picked up the April 11 issue of
People
magazine today at the supermarket. It has Elizabeth on the cover & about 12 pages devoted to her inside.
Here's the cover: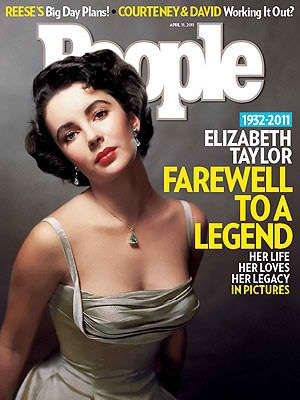 There are lots of photos & small features on her husbands, career, jewels & activism. There is also an ad promoting a commemorative tribute issue that will hit newsstands on April 8. I haven't been able to find the photo of the cover online or anything else about it, but if it's anything like the one devoted to Paul Newman, it will definitely be worth buying. (The Paul Newman tribute issue was 100+ pages, loaded with photos & articles covering all facets of his life.)
Not sure how to tag this, Mods.